The Reverend J. Donald Waring, Rector
(212) 254-2000 ext. 127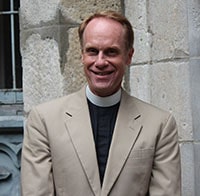 The Reverend J. Donald Waring has been the Rector of Grace Church since July, 2004. Previously he served as the Rector at St. Thomas Episcopal Church in Terrace Park, Ohio for nine years. Prior to his rectorate at St. Thomas, Don served as Associate Rector and then Interim Rector of Christ Church Cranbrook in Bloomfield Hills, Michigan. Don earned his M. Div. from the General Theological Seminary in New York in 1989. During his studies at the General, Don served as a Seminarian at St. Thomas on Fifth Avenue, and then at Grace Church in 1988-89. He earned his B.A. in Psychology from the University of Sioux Falls in South Dakota and has won numerous preaching awards during his career. Don is married to Stacie Soule Waring and they have two sons, James and Luke.
---
The Reverend Martha S. Korienek, Associate Rector
(212) 254-2000 ext. 114
The Rev. Martha S. Korienek joined the staff of Grace Church in September 2016. Previously she has served at St. Michael & All Angels in Corona del Mar, CA, Church of Our Saviour in Chicago, IL, and she came to us from St. Paul's in Burlingame, CA (near San Francisco). She earned her M.Div. from Yale Divinity School and a Certificate in Anglican Studies from the Berkeley Divinity School at Yale in 2006. Before seminary, she was part of the Episcopal Urban Intern Program in Los Angeles, CA, which is one of the Episcopal Service Corps sites. She earned a B.A. from the University of Illinois-Champaign/Urbana, where she double majored in education and French. She is originally from the Chicagoland area, and is a Cubs fan, however, she has attended more Yankees games than any other team, and considers herself a Yankees fan, as well.
---
The Reverend Chase Danford, Assistant Rector for Youth and Family Ministry
(212) 254-2000 ext. 113
The Rev. Chase Danford joined Grace Church's clergy team in August 2015. He leads the 20's and 30's group, oversees the Sunday evening service, and directs Children, Youth, and Family Ministries. Chase is also an adjunct faculty member of Grace Church School, where he teaches third grade Bible and leads Early Childhood Chapel. He previously served as Assisting Priest at Grace Church in Brooklyn Heights, Curate at St. John's Church in Larchmont, and as a major gifts officer at the International Rescue Committee. He earned his M.Div. from Virginia Theological Seminary and served as Seminarian at St. Stephen's and St. Agnes School and Church of the Resurrection, both in Alexandria. Originally from Texas, Chase earned his B.A. in Sociology from Rice University.
---
Dr. Patrick Allen, Organist and Master of Choristers
(212) 254-2000 ext. 110
Dr. Patrick Allen, Organist and Master of Choristers at Grace Church in New York, previously served as Director of Music and Fine Arts at Independent Presbyterian Church, Birmingham, Alabama. Prior to that appointment he served as Associate Organist at Saint Thomas Church Fifth Avenue, New York, Director of Music and Organist at both The Cathedral Church of Saint John and Congregation Beth Emeth, in Wilmington, Delaware. In the summer he is on the faculty of the Baroque Performance Institute held at the Oberlin College Conservatory of Music, Oberlin, Ohio. With Catherine Rodland, he co-authored The Chorister Training Program of The Royal School of Church Music in America, an American adaptation of the English Model SING ALOUD. Dr. Allen has received degrees from the University of North Texas and The Florida State University.
---
Mary Pan, Organ Scholar
(212) 254-2000 ext. 105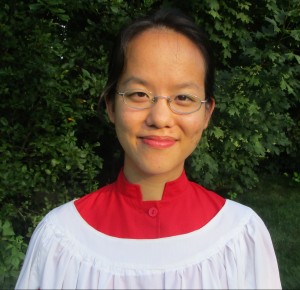 Mary Pan is a Master's student at the Yale Institute of Sacred Music, where she studies organ with Thomas Murray. A native of Burlington, Connecticut, she is a graduate of The Hartt School, University of Hartford, where she studied with Patricia Snyder and Renée Anne Louprette. Ms. Pan is a prizewinner in the Albert Schweitzer Organ Competition, the L. Cameron Johnson High School Organ Competition, and the AGO Regional Competition for Young Organists. She is a recipient of the M. Louise Miller Scholarship, the Dorothy Goodwin Summer Research Scholarship, the E. Power Biggs Fellowship, the Yankee-Pogorzelski Memorial Scholarship, and the Peter B. Knock Memorial Music Fund. Ms. Pan was formerly organist and pianist at First Baptist Church in West Hartford, Connecticut and Chinese Baptist Church of Greater Hartford. Prior to her appointment as organ scholar at Grace, she served as organ scholar at Trinity Episcopal Church in Hartford, Connecticut.
---
Jennifer S. Metz, Parish Administrator
(212) 254-2000 ext. 100
Jennifer is a "Cradle Episcopalian" who has served as Parish Administrator at Grace Church since September of 2010. Previously she worked as Director of the Annual Fund (and volunteer Sunday school teacher!) at St. Bartholomew's Church in New York and freelanced at St. Thomas Church and the Communications Department of the Episcopal Church Center. Prior to her crossover to the non-profit sector, she had over 10 years of marketing and communications experience in the corporate world including agency account management and direct marketing for a major publisher. Jennifer, who enjoys volunteering at the nearby Merchant's House Museum, was drawn to Grace Church partly due to the beautiful 19th century gothic architecture and its place as a landmark of New York City history.
---
Rhianna L. Murphy, Director of Finance and Administration
Rhianna L. Murphy is Director of Finance and Administration and oversees business operations. Rhianna came to Grace Church from The Tibet Fund, an international humanitarian aid organization, where as the Director of Finance and Administration she provided oversight of organization-wide financial activities, USDOS/USAID funded grants, and the daily operations of the New York headquarters. Prior to working for the Tibet Fund, Rhianna served as the Director of Finance and Administration for the French Heritage Society, a Franco-American architectural and cultural preservation organization, and as the Director of Administration for Dance New Amsterdam (DNA), Lower Manhattan's center for dance education, creation and performance, where she led the logistics of transitioning the organization to its new home and the settlement of a $5 million capital campaign. Rhianna began her career in the development department of the New York Public Library and holds a B.A. from Hunter College.
---
James V. Romanik, Assistant Director of Membership & Communications
James V. Romanik oversees all aspects relating to membership and external communications at Grace Church, including strategic marketing and fundraising initiatives. Before coming to Grace, James was the Development and Communications Coordinator at The New York Society for the Prevention of Cruelty to Children, the oldest child protective agency in the world. He has also worked for a variety of other causes, ranging from special needs children to public broadcasting. James received his Bachelors from Ithaca College in Arts Management. He is thrilled to be a part of the Grace community.
---
Sandy Chu, Staff Accountant
(212) 254-2000 ext. 117