Get Involved with Outreach at Grace Church
"Truly I tell you, just as you did it to one of these least of these, you did it to me." (Matthew 25:40) As baptized Christians, we have promised to "seek and serve Christ in all persons" Book of Common Prayer, page 305. We live out our love for God and neighbor in relationship and service to others. Below, you will find brief descriptions of our outreach ministries and partners. Outreach is about helping, but it's also about building up the Christian community, the Body of Christ.
---
"Habitat for Humanity"
Grace Church is overjoyed to be partnering with Habitat for Humanity to rehabilitate a condemned house in St. Albans, Queens. On Saturday, July 16, 2016, we officially kicked-off "The House That Grace Built" with an inaugural build day. It was a wonderful day for Grace Church and Habitat NYC filled with hard, but rewarding, work. Please click below for information on volunteering. If you have any questions, contact Martha Korienek.
In 2018, we will be launching a partnership with Who Is Hussain, an international Islamic service organization, to rehabilitate a home. Unity House will be a symbol of interfaith dialogue and action and importance of building community grounded in diversity and inclusiveness.
Check back often for updates!
Support and Volunteer
Click here

to make a gift to our Habitat campaign.
To sign up for a volunteer day,

click here

. Be sure to use join code "gcnyc" when registering. (This gives access to days reserved for Grace Church.)
For more information on signing up, including instructions on using the Habitat portal,

click here

.
---
The GO Project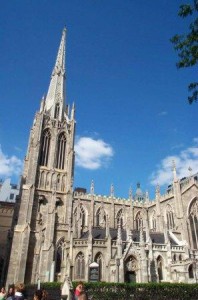 The GO Project shapes the futures of low-income New York City public school children by providing critical academic, social, and emotional support starting in the early elementary years. GO provides year-round educational and family support services to children who are performing below grade level and equips them with the confidence and skills needed to succeed and school, at home, and in life. The GO Project serves over 600 students who attend over 30 public elementary and middle schools in Lower Manhattan.
The GO Program Components
The GO Project offers year-round intensive academic assistance and enrichment programming. Students make a year-long commitment to The GO Project and parents support this pledge. The program includes:
GO Summer: A rigorous, five-week classroom program with a staff of 40 certified teachers and specialists, 28 enrichment teachers, 30 teaching assistants and numerous volunteer aides. Students attend five days a week from 9AM to 5PM for a full day of academic and enrichment classes. Class size is deliberately kept small with a maximum of 12 students. Each morning, students concentrate on intensive reading, writing and math, with a focus on the specific areas where each student requires improvement. In the afternoon, the students enjoy enrichment classes in subjects ranging from art and music to computers and nutrition. GO's content-rich, varied program helps build self-confidence along with academic performance.
Go School: Previously a Saturday-based tutorial program, GO has strengthened the model by integrating professional teachers into the curriculum. GO School is comprised of two and a half hours of academic instruction and skill building on 22 Saturdays from October through April. Professional teachers lead lessons, support volunteer tutors, and communicate with parents to keep them informed about their child's progress. Volunteer tutors make a full-year commitment to teach, and mentor their students which provides the consistent and individualized help that they need to succeed.
Go Families: A year-round social service program designed to empower parents of participants in creating positive learning environments at home and to address various student learning and behavioral issues. GO Families employs licensed social workers who provide services to students and their parents in three areas: year-round counseling, parent educational workshops, and referral to outside agencies. These services complement and extend GO's academic intervention by providing the emotional support and network of resources needed for families to be constructive advocates for their child's academic career.
To find out more about volunteering, contact Olivia Nunez, Director of Community Engagement, at her email or 347-377-2317.
---
Open Door Ministry
Open Door is a group of volunteer parishioners who freely give their time to keep the church open on weekends. Our volunteers make it possible for thousands of visitors to experience the beauty of Grace Church from within its peaceful walls. All people – from tourists, to long-time neighbors, to new students, to the homeless – may enjoy the serenity, rest, and renewal that our sacred space offers.
This vital ministry, the Ministry of Hospitality, of simply opening our doors and our hearts to the community, could not exist without the volunteers. Please consider giving two hours per month to come and sit in the church, answering visitors' questions. For more information, please contact Martha Korienek.
---
Food, Clothing, and Shelter
Ascension/Michael D. Fender Memorial Food Pantry
11 West 11th Street, New York, NY 10011
Food distributed every Tuesday and Saturday at 8:30 AM.
Contact: 212-254-8621 | 917-359-0592
296 Ninth Avenue (at 28th Street), New York, NY 10001
Soup Kitchen volunteers work Monday through Friday from 9:45am to 1:15pm They need 40-50 volunteers daily to help "run" the Soup Kitchen. Work just one day or make a regular commitment – it depends on you and your schedule. Volunteers assist in serving on the food line, greeting guests, collecting individual meal tickets, handing out drinks, and clearing and cleaning tables when the guests are finished eating.
Contact: 212-294-0167 ext. 237 | Email
30 West 16th Street, New York, NY 10011
Once a month, over 100 families are served through the Food Pantry through the distribution of donated food. In addition, the Pantry offers clothing and assistance with entitlement benefits. Xavier Shelter is a homeless shelter for up to 15 men every night, in conjunction with John Heuss House and Partnership for the Homeless. Volunteers are needed to stay the night. Guests are provided with a snack in the evening and breakfast in the morning.
Contact: 212-627-2100
201 West 13th Street (at 7th Avenue), New York, NY 10011
Food Pantry and Meal – In addition to a hosting a food pantry, volunteers prepare and host meals.
Contact: 201-648-5325
---
Advocacy
Interfaith Assembly on Housing and Homelessness
165 West 105th Street, New York, NY 10025
The Interfaith Assembly on Homelessness and Housing (IAHH) is committed to confronting the unconscionable and unacceptable reality of homelessness in New York City. Recognizing society's shared responsibility and working as partners with those who have experienced homelessness, the Interfaith Assembly will mobilize communities of faith to empower all people, to advocate public policies to eliminate homelessness, and to strive for the transformation of society.
Contact: 917-913-0098 | 212-316-1047 (Fax) | Email
---
Other Outreach Ministries
Founded in 1834 and affiliated with the Episcopal Church, the Seamen's Church Institute of New York & New Jersey (SCI) is the largest, most comprehensive mariners' agency in North America. Annually, its chaplains visit 3,400 vessels in the Port of New York and New Jersey and along 2,200 miles of America's inland waterways. SCI's maritime education facilities provide navigational training to nearly 1,600 mariners each year through simulator-based facilities located in Houston, TX and Paducah, KY. The Institutes and its maritime attorneys are recognized as leading advocates for merchant mariners by the United States Government, including the Congress, the U.S. Coast Guard, the Department of Homeland Security, as well as the United Nations, the International Maritime Organization, the International Labor Organization and maritime trace associations. Volunteers are needed to knit and package Christmas gifts for seamen.
---