The Tenth Sunday after Pentecost
Dear Friends,
Greetings to you all, and a happy end-of-July to each one of you. What follows is the monthly Epistle for August to keep you abreast of summertime life at Grace Church and plans for the fall even as they are developing. Read on:
Covid Resurgence – It's been impossible to avoid the news of a resurgence in the coronavirus. As most people know, the cause is two-fold: the Delta variant, and the segment of the population that has been unwilling to be vaccinated. Concerning the latter, it is hard not to feel enormous frustration with people who willfully risk being host to the ever-mutating virus and spreading it to others. A month ago it seemed like the train was pulling out of the station and we were leaving the pandemic behind. Ahead of us was life and community in abundance. Now it's as if certain folks have decided to lay down on the tracks and stop all progress. Why? The reasons boggle the mind. They claim a constitutional right to do so. They fear boarding the train will alter their DNA, give them autism, and plant microchips in their bodies. A persistent campaign of good will, including common sense, sound science, and clear information has not dislodged the deluded conspiracy theories from their thinking. Now the incentive is payment of $100. One would think that immunity from a dread disease would be incentive enough, but apparently not.
What will it mean for the city just as life and commerce were beginning to bounce back? My guess is that it will be a developing picture as the month proceeds. Here at Grace Church we have a plan in place to re-open all the pews and return Hymnals and Prayer Books to their places in time for Sunday, August 8th. On Welcome Back Sunday, September 12th we plan to have vested choristers in the choir pews at 11 am, and the 6 pm Eucharist in the chantry once again. As of this moment we are forging ahead with those plans. What is more, if you are vaccinated you are not required to wear a mask indoors. The State of New York has stopped short of mandating the CDC mask recommendation. Who knows where we will be come September? I will say this: given the choice between returning to pandemic restrictions, or requiring that anyone 12 and older entering any part of Grace Church be vaccinated, I will opt for the latter without hesitation. Obviously, more on this to come.
Rebuilding the Staff – You may recall reading in the July Epistle that we were in a search for two new staff positions: a full-time Production and Communication Manager, and a part-time Parish Office Coordinator. You can read about both positions on the website.  The good news is that we have filled the Parish Office Coordinator position with a person whom we believe to be just right for the job. We are excited to welcome Michael Hawley to the staff. His first day will be Monday, August 16th. As of now the Communications position remains open. We are confident that the right person will emerge, and committed to waiting until he or she does.
The Bread Line – If you listened to my sermon on July 18th you heard me talk about the old Fleischmann's Vienna Bakery building that stood directly south of the church on the lot that is now Huntington Close. For many years in the late-19th and early-20th centuries the owner of the baker, Louis Fleischmann, would hand out a free loaf of bread to anyone who stood in line. This was the origin of the phrase "the bread line." In seeking to learn more about Fleischmann and his bakery I came across a vivid illustration of the scene by the noted artist C.W. Jefferys, who worked for The New York Herald at the time. The print was for sale on eBay, and thanks to Charlie Johnston, we now own it. Take a look.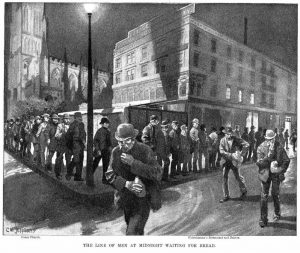 Finally, for many years I have reserved August as my vacation time, and that will be the case again. On Sundays I am looking forward to attending different churches as a civilian in a pew with Stacie, James, and Luke. Here at Grace Church the pulpit will be occupied by Harry Krauss on August 1st, Thomas Szczerba on August 8th and 22nd, and Julia Offinger on August 15th and 29th. (I get five Sundays this year!)
Summer blessings to you all. See you in September!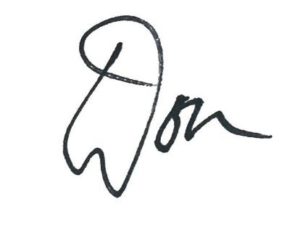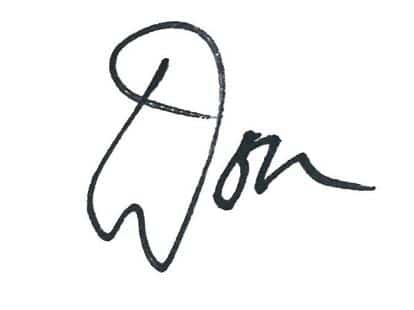 The Rev. J. Donald Waring
Rector