The Sunday Forum - January 23 & 30, 2022 @ 10:00am
Celebrating Early Christian Women with VK McCarty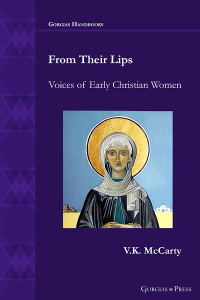 "Celebrating Early Christian Women" with VK McCarty The first Sunday, January 23rd, we will highlight some of the fascinating women present, even if sometimes discreetly hidden, in the story of Early Church History. We will note their contributions to the growth of faith in Early Christianity and explore two of the women acknowledged as theological teachers: Prisca, a co-worker of St. Paul, and Syncletica, one of the Desert Fathers who was a woman.   In-person @ 10 am in the Reception Room or on Zoom. 
The second Sunday, January 30th, we will continue our discussion, encountering: Thekla, a co-preacher with St. Paul from the Apocryphal Acts, and Hilda, a 9th C English Abbess and library administrator. Theological Librarian, VK McCarty is the author of, From Their Lips: Voices of Early Christian Women. Ms. McCarthy lectures at General Seminary and teaches at St. Luke in the Fields in the Adult Education Dept.
In-person @ 10 am in the Reception Room or on Zoom.