Dear Friends,
Greetings to you all, and happy July.  What follows will be the first of two summer Epistles that you will receive to keep abreast of life at Grace Church during these lazy, hazy days.  While it is true that for the next two months we are running at a much slower pace than we do during the normal course of the year, things are still happening as we plan to sprint out of the starting blocks in September.
Sunday Worship at 9 and 11 am – This week, July 4th, we have a special treat in store as the Rev. Canon Harry Krauss will be our guest preacher.  Harry is a retired rector and cathedral dean who has been a member of Grace Church for a number of years and has taken up an increasingly vital role in our parish life.  He is an excellent preacher and I am looking forward to hearing him.  The rest of this month (while Julia is on vacation), the preaching schedule will include yours truly on July 11 and 18, then Thomas Szczerba on July 25.  Note that the 11 am service will continue to be live-streamed so that you can tune in wherever your travels may take you.  Every week you will receive an email entitled "Your Sunday Morning" at 8 am with the 11 am bulletin and other details pertinent to the service.
Rebuilding the Staff – You may recall that late last summer, anticipating a year of greatly reduced traffic in the parish house due to the pandemic, we eliminated four full-time staff positions.  Now as we move toward a full reopening we have been asking the questions: What have we learned about staffing in the past year?  What positions do we need?  What positions can we afford?  If the truth be known, prior to the pandemic we were living beyond our means, and now we have an opportunity not to revert back to the same old pattern.  As it stands today we are in a search for two new staff positions: a full-time Production and Communication Manager, and a part-time Parish Office Coordinator.  You can read about both positions on the website here: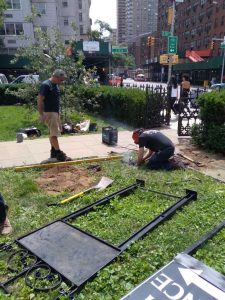 New Chantry Sign – Fifteen years ago Grace Church School was building a gymnasium beneath Huntington Close.  The project required us to use an alternate entrance to the chantry (our chapel).  We needed a different, bolder sign to point out the temporary entrance.  Also, the old, elegant sign had deteriorated beyond the point of reinstallation. Thus, when the project was finished, the new, bold, (some said "vulgar") sign took its place.  Thanks to several gifts from generous parishioners, we have designed a new sign to look much like its elegant, tasteful predecessor.  It is in keeping with the architecture of Grace Church. Behold: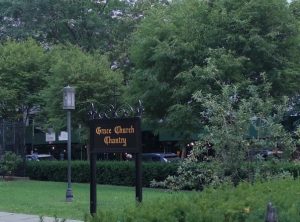 Sign design and fabrication by: Jon Bocksel and Tyrome Tripoli
Summer Parish Cookouts – Our aim is to enjoy three parish cookouts on the lawn of Huntington Close this summer.  The first was a great success.  Forty people came out on June 23, and it was my pleasure to flip the burgers and grill the hot dogs.  The next cookout is Wednesday, July 28 at 6 pm. More information will be on your way via email, but if you want to sign up early, contact Matthew Kopp.
Finally, parishioner Erik Sorensen noticed a magnificent picture of the Grace Church spire in a new art installation at La Guardia Airport.  It is part of a floor to ceiling wall of faux stained glass in the new Terminal B, on a concourse between the baggage claim area and the parking garage.  Check it out if you happen to be traveling, or read more about the whole project at Art at Terminal B. We're famous!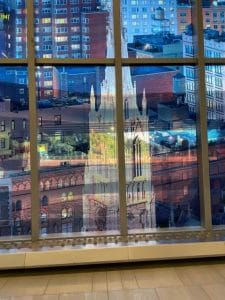 Sabine Hornig (Pforzheim, West Germany) La Guardia Vistas, 2020
Blessings to you all for a refreshing, relaxing, peaceful July.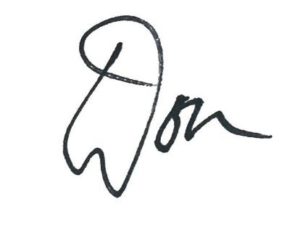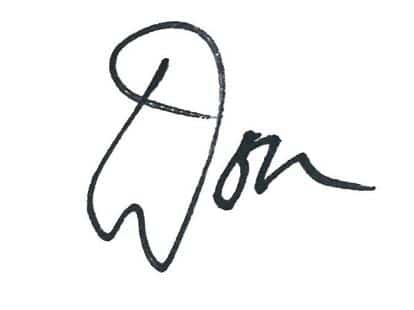 The Rev. J. Donald Waring
Rector