Ashleigh Madureira, March 29, 2020
This Sunday's Scripture Reading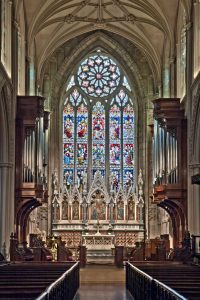 The hand of the Lord was upon me, and he brought me out in the Spirit of the Lord and set me down in the middle of the valley;[a] it was full of bones. 2 And he led me around among them, and behold, there were very many on the surface of the valley, and behold, they were very dry. 3 And he said to me, "Son of man, can these bones live?" And I answered, "O Lord God, you know." 4 Then he said to me, "Prophesy over these bones, and say to them, O dry bones, hear the word of the Lord. 5 Thus says the Lord God to these bones: Behold, I will cause breath[b] to enter you, and you shall live. 6 And I will lay sinews upon you, and will cause flesh to come upon you, and cover you with skin, and put breath in you, and you shall live, and you shall know that I am the Lord."
I have two brown thumbs, but I still love to garden. Putting a tiny seed into dirt, watching it sprout, grow and flower (hopefully) is amazing to me every time. However, for that process to occur the plants must have space and nourishment. People are really no different. We need to nourish our bodies and souls to live and grow. Neglect can wither us and leave us as 'dry bones'.
For me, Grace has been a place to reset; a chance to put my problems in perspective and be reminded of what's important. You can't help but feel slightly transformed when you walk through those doors. You know you're in a special place. As an Open Door volunteer, I enjoy welcoming others to Grace to be transported from the busy streets of Manhattan into a true sanctuary. Some come in just to admire its beauty and satisfy curiosity, others come to sit and speak with God. Whatever the reason, I like to think His presence is felt just by being within those walls uplifting and comforting those who seek it. Many leave and thank you for those moments – the opportunity to pray, to ogle, to grieve, to hope, to do what they needed to do.
But how do we provide that space to be and grow with God when we aren't in church? When it's not all around us? When we get sucked back into those busy streets and get on with our busy lives? I know I can easily get caught up in the minutiae of the day, the petty grievances, and the careless actions. I get wrapped up in myself and it's often hard to disengage and focus on the greater picture, to just stop and reset. I think that's why I appreciate all of the opportunities Grace provides to pull us to center again, especially with outreach. It's a very deliberate break from ourselves to make some space to serve God. And it requires no prerequisite skill set! I don't have to be a carpenter to work in community with other volunteers to help build a home with Habitat for Humanity. I don't have be a social worker to walk the streets with Don't Walk By volunteers to let people know they are loved and have resources. It's these moments that help us breathe life into ourselves and each other. It's what helps us live and grow.
If we are to see the bounty of God's gifts, the garden needs to be tended. This Lenten season I hope to practice being mindful of the ways I can bring God into my life and serve others even in my day-to-day bustle.