Grace Church in New York
Restoring All People Within Our Reach To Unity With God And Each Other Through Jesus Christ
Grace Church
in New York
Restoring All People Within Our Reach To Unity With God And Each Other Through Jesus Christ
Service Bulletin for Saturday, June 17, 2023 - In Thanksgiving for the life of Thomas W. Hall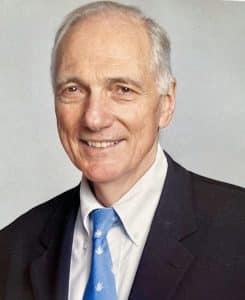 Thomas W. Hall
June 6, 1936 – May 28, 2023
Born June 6, 1936, in the Bronx, NY, he was the only child of T. James and Agnes Finnie Hall. Tom was a proud and accomplished gentleman of deep and unwavering faith. He held degrees from Brooklyn Technical HS ('54), Princeton University ('58) and Harvard Business School ('63). He played football at Brooklyn Tech where he was known as the "Flying Scotsman" and served in the Army ROTC as an undergraduate.
Tom met his wife Linda on a blind date in Chicago and the two were married in 1963 shortly after his graduation from HBS. They settled in NYC where Tom pursued careers in the oil industry and on Wall Street and the couple raised their two children. Tom and Linda were devoted members of Grace Church where she was the parish receptionist and Tom was on the vestry, served as treasurer and was a longstanding usher.
In retirement, Tom worked in development for the New York City Rescue Mission helping to raise funds to support its outreach to combat homelessness and drug addiction. He was predeceased by his wife, Linda, and is survived by his son, Thomas J. Hall (Kimberly), daughter, Carolyn Newman (Clark) and grandchildren Amanda, Lindsay and Bridget.
Tom died peacefully at his home on May 28 surrounded by his family. Now that he is reunited with Linda, may his soul find eternal peace and may his memory be a blessing to us all. Gifts in Tom's memory may be made to Grace Church or the New York City Rescue Mission.