Grace Church in New York
Restoring All People Within Our Reach To Unity With God And Each Other Through Jesus Christ
Grace Church
in New York
Restoring All People Within Our Reach To Unity With God And Each Other Through Jesus Christ
Christmas Pageant Casting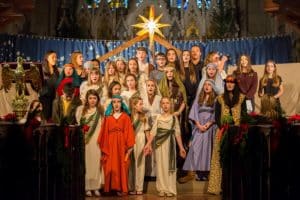 The annual Grace Church Christmas Pageant on Christmas Eve
Saturday, December 24, 2022 at 4:00 p.m.
Casting Forms Due Nov. 7 – Interviews Nov. 8
The Christmas Eve Pageant is open to all children ages 5 and up. In addition to Mary and Joseph, it features a variety of roles, including angels, shepherds, sheep, cows, villagers, & kings. There is a role for everyone in our Christmas Pageant! To participate, everyone must fill out a Digital Casting Form. 
Digital Casting Form: Please submit one completed form for each participating child, ages 5 and up. All participants must submit forms by Monday, November 7th.
If your child is interested in interviewing for a solo, duet, or trio (1st grade and up), please sign up for a slot.
Interview Sign-up: Interviews for solos, duets, and trios are Tuesday, Nov. 8 from 1-5 pm. Your child only needs to interview if s/he is in 1st – 8th grade. Younger kids are part of the full cast ensemble. The role they request (sheep, angel, etc.) is generally a separate consideration from the part they sing in the pageant. Those in 4th grade and below should come as groups of at least 2 for their interviews, if possible. Those interested in duets and trios should come together for the same slot. Please come prepared to sing what you are interested in or your favorite Christmas hymn/song. Bring your music to the interview. You can practice with recorded pageant music here (link downloads a .zip file).
Please note: if your child is in kindergarten or younger, or not interested in a solo, duet, or trio, you only need to fill out the Casting Form and you are all set. 
The Pageant Schedule is as follows. We have streamlined things, so please note that everything is mandatory. Adults can choose one of the three Work Days, but participation in at least one is mandatory. 
Friday, November 18, 4-6 pm: Hymn Sing thru in the Chantry
*Friday, November 18, 5:30-6 pm: Parent Meeting in the Reception Room
*Friday, December 2, 3-5 pm: Music Rehearsal in the Chantry
Friday, December 9, 3-5:30 pm: Movement Rehearsal in the Church
Saturday, December 10, 1-4 pm: Work Day option #1 for adults
Friday, December 16, 12-2pm: Manger Set Up option #2 for adults
Friday, December 16, 2-5 pm: Blocking Rehearsal and costuming
Friday, December 23, 1-4 pm: Dress Rehearsal
Saturday, December 24, 4 pm: The Pageant!
Wednesday, December 28, 3-5 pm: Work Day option #3
*By the Music Rehearsal on December 2, all pageant participants need to learn the music and be ready to go (memorized and 'off book'). We will give tips on how to help your child achieve this at the parent meeting on November 18.
Please do not hesitate to be in touch with Mother Julia or the pageant directors, Adrienne Goldthorpe and Michelle Choo, or the pageant assistant director Jenny West with any questions!
Donations to the Christmas Pageant are greatly appreciated. Thank you.